Do you want to build a snowman? Whenever I see that phrase the song just pops into my head for the next couple hours. I'm sure if you know the movie you know what I'm talking about. Anyway, I just adore this image. In the Netherlands we have some snow every year, but it's always a surprise if it will be enough (and if it will stay on the ground) to actually play in it. For this card I used a variety of copic sketch markers to color the little children, the snowman and the background. I added a few gel pen accents on the snowman to make him sparkle a little. The colored piece of paper is 5,25×4 inch, the patterned paper and card base are 5,5×4,25 inch. I love the sentiment that comes with this image, so after coloring and adding it to a card base the card is all ready to go. I hope you like it! Have a lovely day!
Materials used:
Do you want to build a snowman digital stamp (use LEONTINE for a 10% discount)
Laser Printer
White gelly roll pen 10
Tape runner
Copic Sketch Markers: 0, BV0000, BV000, BV02, BV13, BV31, BG0000, BG000, BG10, BG11, BG13, YR15, YR16, YR18, RV52, RV55, RV63, RV66, RV69, R20, B12, B14, B16, YG41, YG45, Y13, W6, W8, W10, E000, E00, E11, E53, E55, E57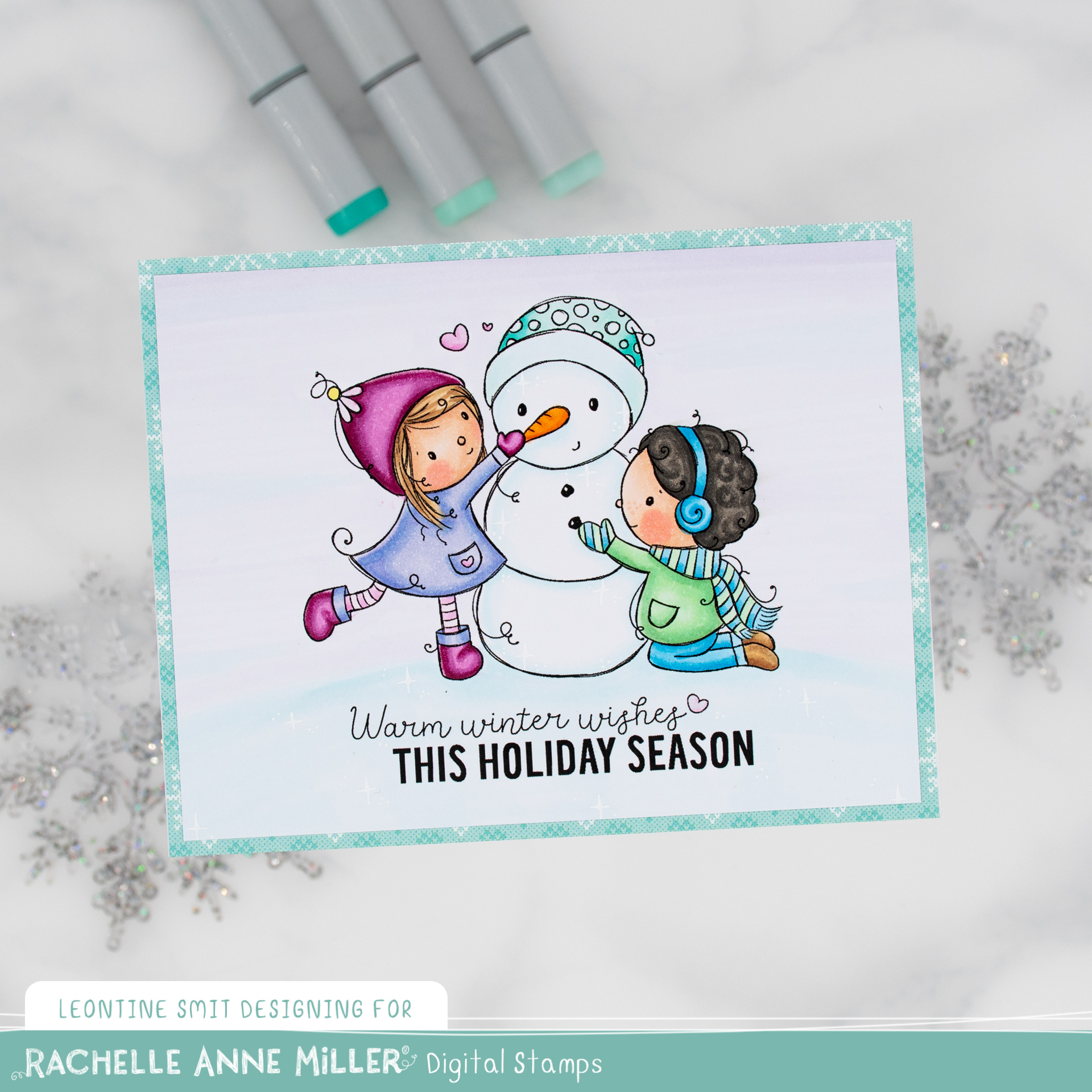 (✿◠‿◠) D I S C L A I M E R
Most of the materials I used for this card were purchased by me. As a design team member for Rachelle Anne Miller I'm receiving digital images. The links I use on my blog that refer to her website are part of an affiliate program. If you make a purchase by using one of those links, I receive a small commission at no extra cost to you. That will help me buy more craft supplies. Thanks in advance for the support!